About Resistors
Resistors, one of the most used types of electronic components, come in many shapes and forms.
Some types may have resistance values printed on them,
but most are color coded to indicate resistance values and ratings.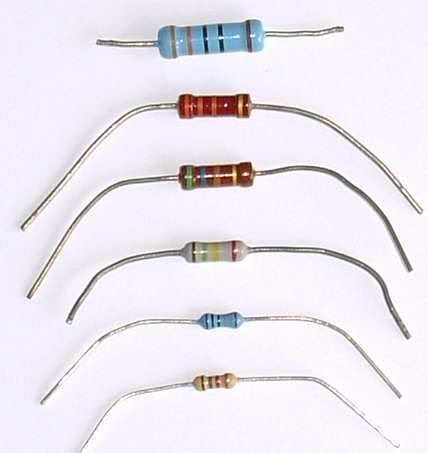 The color code consists of several colored bands which indicate the resistance values of resistors in Ohms as well as the tolerance rating. Most resistors have four or five bands, but occasionally you may come across resistors with three or six bands.
There is also as special case, a resistor with one black band. This is a zero-ohm resistor, i.e. not really a resistor but rather a piece of wire with a body. It is shaped like a resistor so that it can be fitted into printed circuit boards by automatic machines, when a link lead is needed.
The most common types of resistor codings are explained
here
.
A note about power ratings. As time has gone by, resistors have become much smaller for a given power rating. Old resistors with a 1/4 watt power rating quite often resemble modern resistors with a 1 watt or 2 watt rating, size wise. Be careful, bear that in mind when using or replacing old resistors.